8 Temmuz'daki Clean Bandit konseri, Chadash Cort ve Kansu Doğan'ın Türkiye'deki organizasyonlarının yalnızca bir örneği. İkili, müzik dünyasının sevilen isimlerini ülkemize getirerek Türk izleyicileri uluslararası sahnenin büyüsüyle buluşturmayı sürdürecek…
Clean Bandit'in 8 Temmuz'da gerçekleşecek konseri, Antalya'nın yeni açılacak oteli The X Belek'in öne çıkan etkinliklerinden biri olacak. The X Belek Hotel, konser için kusursuz bir akşam sunmak için hiçbir detayı atlamıyor. Son teknoloji ses ve ışık sistemleri, konforlu oturma düzenlemeleriyle birleşerek tüm katılımcılar için etkileyici bir deneyim sağlayacak. Otelin mükemmeliyete olan bağlılığı, bu etkinliği yaz aylarının en öne çıkan etkinliklerinden biri haline getiriyor.
Clean Bandit, hit şarkıları ve klasik müziği elektronik ritimlerle harmanlayan benzersiz tarzlarıyla dünya çapında hayran kitlesi oluşturmuş bir grup. Grace Chatto, Jack Patterson ve Luke Patterson'dan oluşan grubun, Demi Lovato, Jess Glynne ve Sean Paul gibi müzik endüstrisinin en büyük isimleriyle yaptığı iş birlikleri dikkat çekiyor.
Clean Bandit'in performansıyla The X Belek Hotel'e gelen konuklar, grubun bulaşıcı ritimleri, büyüleyici melodileri ve etkileyici vokalleriyle dolu enerjik bir şov bekleyebilirler. "Rather Be" ve "Symphony" gibi ikonik parçalarından en son çıkardıkları hit şarkılara kadar, Clean Bandit'in performansı izleyicilerde daha fazlasını isteme isteği uyandıracak.
Clean Bandit konseri, The X Belek otelinin marka değerine katkıda bulunurken, yeni açılacak otelin müzikseverler arasında popüler bir destinasyon haline gelmesine de yardımcı olacak.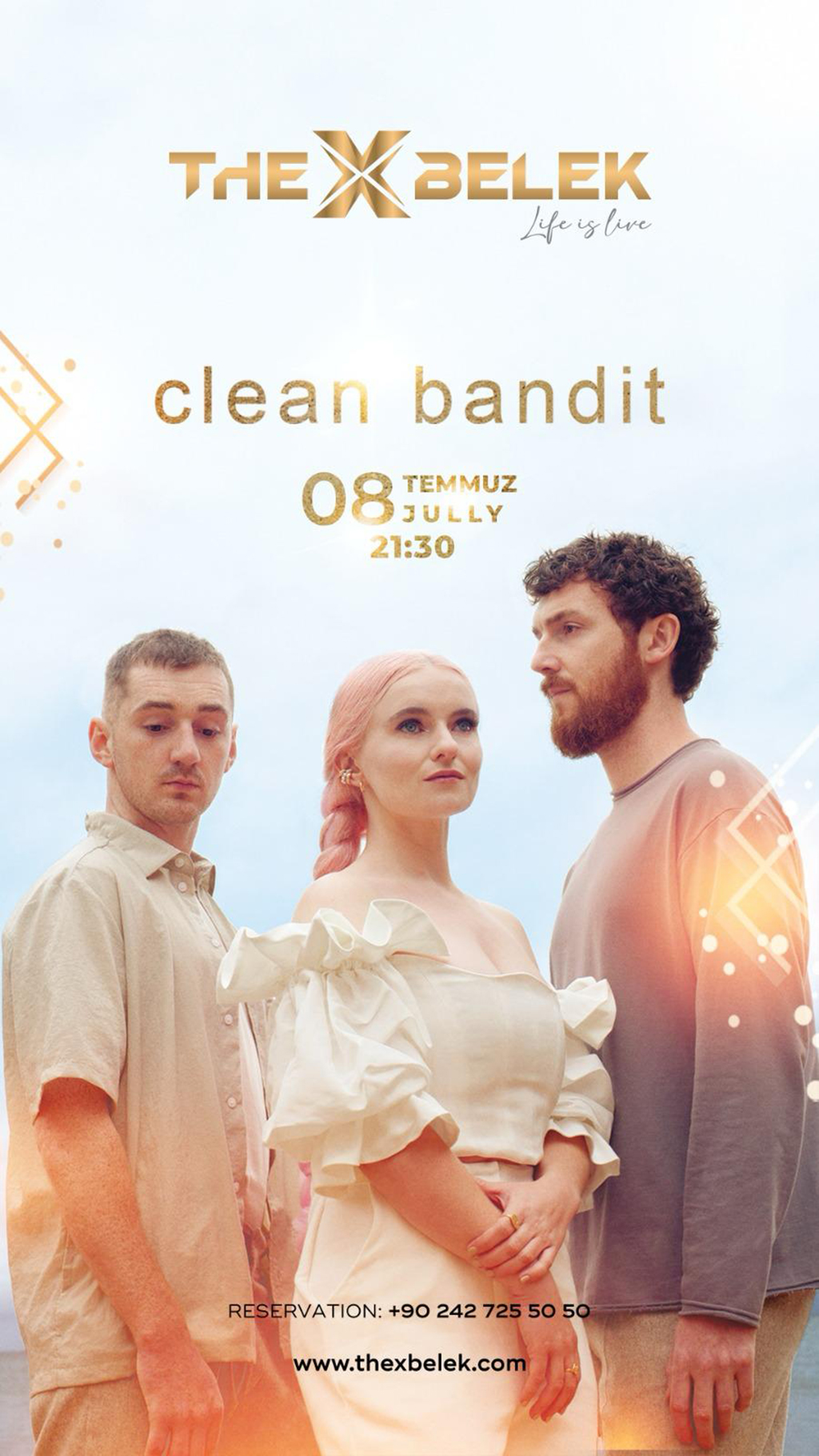 8 Temmuz'da gerçekleşecek Clean Bandit konseri için biletlerin hızla tükenmesi bekleniyor. Hem yerli hem de yabancı konuklar, bu eşsiz etkinliği kaçırmamak için şimdiden yerlerini ayırtmalılar.
Chadash Cort (Çağdaş Çört) ve Cort Agency'nin sanatçı menajerliği, Dünya müzik endüstrisindeki güçlü bağlantıları ve deneyimiyle, uluslararası düzeyde tanınmış isimleri ülkemize getirme konusunda öncü bir rol oynuyor. Kansu Doğan'ın Let Us Entertainment şirketi ise müzik etkinliklerinin organizasyonunda profesyonel bir yaklaşım sunarak müzikseverlere unutulmaz deneyimler yaşatmayı hedefliyor.
Bu iş birliğiyle, The X Belek Hotel'deki müzik etkinlikleri büyüklükleri ve önemleriyle öne çıkacak. Chadash Cort (Çağdaş Çört), Cort Agency ve Kansu Doğan'ın Let Us Entertainment ile birlikte gerçekleştireceği müzik etkinlikleri, Türkiye'nin en iddialı ve unutulmaz yaz etkinlikleri arasında yer alacak.