Yılın Başarılı Mantı Üretim Markası ödülünü Bahca Gıda Yön. Kur. Başk. Aytaç Balkaya'nın aldığı. 5. Etap Gold Plus Of Turkey Ödülleri; : 26 Aralık gecesi Gökay Kalaycıoğlu ve Wilma Elles'in sunuculuğunda Akatlar Kültür Merkezi'nde muhteşem bir geceyle sanat ve iş dünyasını bir araya getirdi.
SMA hastalığına farkındalık temasıyla düzenlenen törende birçok ünlü isim de ödüllerini aldı. GOLD PLUS OF TURKEY Komite Başkanı Celal Baran Yıldırım'ın açılış konuşması ve Suna Selen'e Yaşam Boyu Onur ödülünü takdimiyle başlayan gecede; Suna Selen Halil Ergün, Zihni Göktay, Melihat Gülses, Nuri Alço, Ayşen İnci, Ahmet Arıman, Abidin Yerebakan, Nagihan Karadere, Arto, Fatih Bulut, Teoman Ayık, Dora, Bahadır, Ayhan Eroğlu, Atilla Yiğit, , Tuncay Aka, Esra Tokelli, Bülent Uslu, gibi ünlü isimler de ödülle buluştu.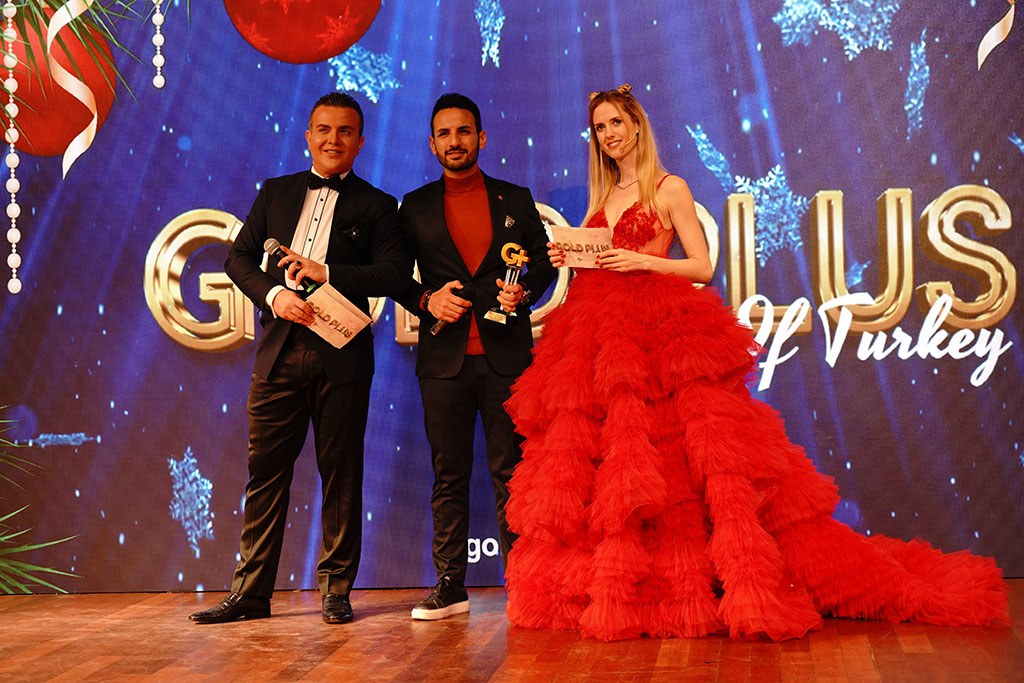 Gecede "Bir Pera Hikayesi" ile ödül alan Melihat Gülses: 'Birçok dalda ödüller var, ama bugün ülkemizde gerçekten kendi müziğimize olan ilgimizin azaldığı ve ödül törenlerinde özellikle Türk Müziğine artık ödül verilmediğini, böyle bir kategori olmaması beni hep üzmüştür ama bu akşam bu ödülle dünyalar benim oldu' dedi
Organizasyon hakkında açıklamalarda bulunan Halil Ergün: 'Elbette bir insanın ödül alması çok sevindirici, bu etkinlikse beni diğerlerine kıyasla çok daha çarptı.. çok boyutlu yani bir toplumun bütün alanlarındaki başarı ölçülerinin konulması bence çok başarılı ve çok önemli. Bilinsin ve yaygınlaşsın isterim.' Dedi.
Törende açıklamalarda bulunan Burak Akyürek (Lokumların Efendisi):  " Bildiğiniz gibi lokum; Osmanlı mutfağından çıkan bir lezzet ve yıllardır dünyanın pek çok noktasına ulaşmış ve biz de bu güzel lezzeti şova dönüştürüp special dediğimiz lokumları ürettik. Eskiden sadece çifte kavrulmuş olan lokumlar şu an special çeşitlerle zenginleşti ve Osmanlının geleneğini sürdürmek için de KAYI Ertuğrul konsepti oluşturduk ve Ortadoğu'nun dikkatini çekmeye başladık. Bunun üzerine ihracatlarımızı hızlandırdık ve Türkiye'yi en güzel şekilde temsil etmek bizi onurlandırdı. Ayrıca Osmanlıyı da unutturmamak adına  konsept lokumumuzu şov dünyasına kattık. Hem çocukların hem de yetişkinlerin dikkatini çekmeyi başardık. Bu güzel ödül de bu çalışmalarımızın güzel bi anlamı oldu." dedi..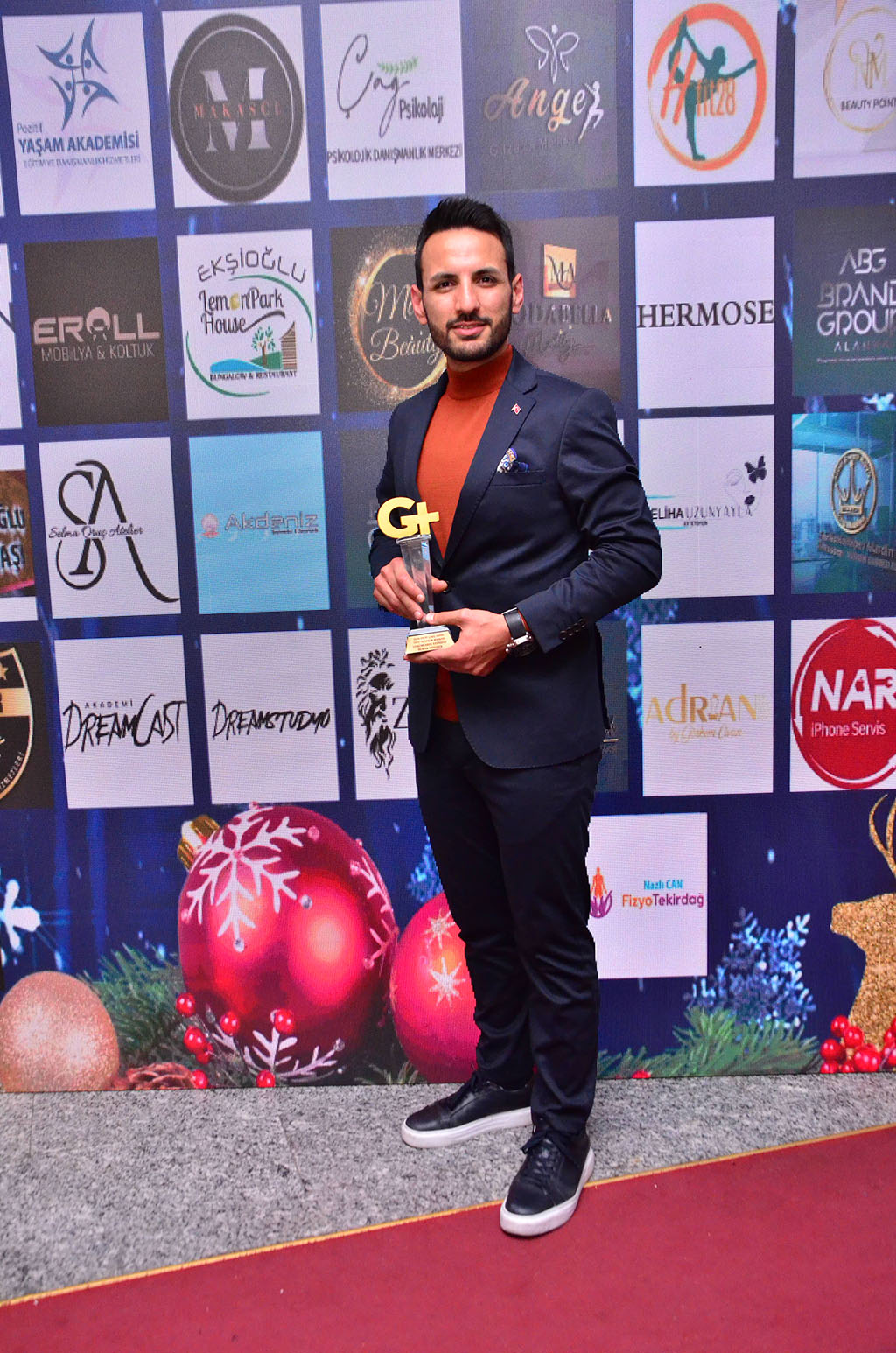 Gecenin ev sahibi Emre Kirişçi; 'Sma Hastalığı bizim kanayan yaramız, istiyoruz ki sanatçısı iş adamı büyüğü küçüğü birlik olsun, minik yavrularımızın rahat nefes alamadığı bir dünyada bizim rahat nefes almamız bizi rahatsız eder. Bu yüzden Gold Plus Of Turkey, bir farkındalık gecesi.  Çok değerli üstadlarımız oyuncularımız bizlerleydi. Onları bir araya getirmek onur verici bir duygu yaşattı.  Umarız farkındalık temamız amacına ulaşır ve minik çocuklarımızın sesi oluruz.' Dedi…
Gold Plus of Turkey Komite Başkanı Celal Baran Yıldırım: ' Bugün burada tüm sanatçılarımız ve iş insanlarımız yüce bir amaç için toplandık. Biliyorsunuz yaşamak en çok da çocukların hakkıdır. Biz de tüm çabamızla bunu, bu insanlara göstermek gibi bir misyonu amaçladık. Her kim bir canı kurtarırsa tüm insanlığı kurtarmış gibi olur, bütün misafirlerimize tüm insanlığı kurtardığı için teşekkür ediyorum' dedi.