Rolls-Royce dünyanın en hızlı tam elektrikli uçağını çalıştıracak teknolojinin yer testlerini tamamladı
Rolls-Royce, dünyanın en hızlı tam elektrikli uçağına güç verecek, çığır açan teknolojiye ilişkin testlerini tamamladı.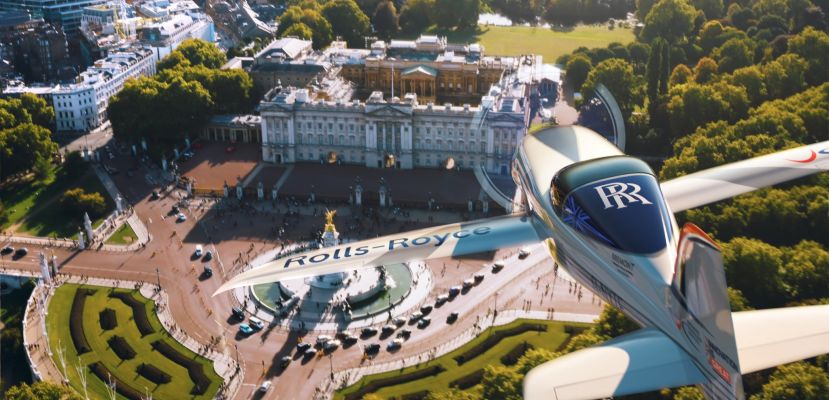 Rolls-Royce, dünyanın en hızlı tam elektrikli uçağına güç verecek, çığır açan teknolojiye ilişkin testlerini tamamladı. Dünya çapında hız rekorunu kırabilecek 500 beygir gücündeki elektrikli güç aktarım mekanizması ve 250 eve enerji sağlayabilecek güçteki batarya da dâhil olmak üzere, uçağa güç verecek tüm teknolojiye ilişkin testler, 'ionBird' isimli tam ölçekli bir uçak replikası üzerinde gerçekleştirildi.
Söz konusu uçak, 'Uçuş Elektrifikasyonunun Hızlandırılması – Accelerating the Electrification of Flight' veya kısaca ACCEL adı verilen Rolls-Royce programının bir parçası. ACCEL proje ekibi, ana ortaklardan olan YASA adlı elektrikli motor ve kontrolör üreticisi ve Electroflight adlı havacılık girişiminden oluşuyor. Proje ekibi, Birleşik Krallık Hükümetinin sosyal mesafe ve sağlıkla ilgili diğer düzenlemelerine uygun hareket ederek teknoloji geliştirme çalışmalarını sürdürüyor. Geliştirilen sistemler yakında 'Spirit of Innovation' (Inovasyonun Ruhu)' adlı uçağa entegre edilecek. Havacılıkta, uçuş öncesi tahrik sistemlerinin test edilmesinde uzun yıllardır iron-bird (demir-kuş) kullanılır, ancak bu defa Rolls-Royce, uçağa güç verecek sıfır karbon emisyonlu enerji kaynağından hareketle test için geliştirilen uçak gövdesine 'ionBird' adını verdi.
Birleşik Krallık Ticaret ve Sanayi Bakanı Nadhim Zahawi konuyla ilgili şunları söyledi: "Gelecekte ulaşım, trenlerden uçaklara uzanan tüm ulaşım araçlarında temiz elektrik kaynaklarıyla yapılacak. Bu kapsamda Rolls-Royce gibi şirketler, uygun teknolojiler geliştirerek net sıfır karbon emisyonu hedeflerimize ulaşmak için bize yardımcı oluyor. Hükümetimizce de desteklenen ACCEL projesi kapsamında gerçekleştirilen yer testlerinin tamamlanması, yalnızca heyecan verici bir dünya rekoru girişimine yönelik bir adım değil, aynı zamanda bir gün tüm dünyada çok sayıda yolcu taşıyacak tam elektrikli ve hibrit-elektrikli uçakların geliştirilmesine yönelik bir hamle."
Dakikada yaklaşık 2.400 devir pervane hızı
Aşağıda yer alanlar da dâhil olmak üzere, sistem bileşenlerinin her biri proje ekibi tarafından test edildi: Bugüne kadar bir uçak tahrik sistemi için bir araya getirilmiş en güçlü batarya grubu kullanılarak pervane son hızda (yaklaşık 2.400 devir/dk) çalıştırıldı. Uçuş testi aşamasında tam kapasitede çalışırken, uçağı 482,8032 km/saat (300mph) üzerinde bir itkiyle harekete geçirecek ve elektrikli uçuşlarda yeni bir dünya rekoru hızına imza atılacak. Azami güvenlik, asgari ağırlık ve tam ısıl korumanın sağlanması için bataryada 6.000'ın üzerinde hücre bulunuyor. Ocak ayından itibaren, Rolls-Royce'un mühendislik ekibi ve test pilotları, sistemin optimizasyonu ve elektrikli uçuş işletim prosedürlerinin geliştirilmesi için yoğun bir mesai harcadı. Mümkün olan her açıdan performansın iyileştirilmesi amacıyla, proje ekibinin analiz ettiği operasyonun her saati için gigabaytlar düzeyinde veri oluşturuldu.
Rolls-Royce Elektrikli Sistemler Direktörü Rob Watson konuyla ilgili olarak şunları söyledi: "Rolls-Royce, 2050 yılına kadar net sıfır karbon emisyonu hedefine ulaşılması konusunda öncülük etmeye kendini adamış durumda. ACCEL projesi çerçevesinde yer testlerinin tamamlanması, proje ekibi için çok önemli bir başarı olmanın yanında, dünya rekoru kırmaya yönelik bir diğer kritik adım. Bu proje aynı zamanda, Rolls-Royce'un yeteneklerinin geliştirilmesinde ve sürdürülebilirlik stratejisi kapsamında önemli bir yeri olan uçuş elektrifikasyonun sağlanmasında liderliğimizi sürdürmek için bize yardımcı oluyor."
Bremont, tam elektrikli hız rekoru girişiminde resmi zaman ölçme ortağı olarak görev alacak. İngiliz lüks saat markası, bir yandan kronometreye sahip olacak kokpitin tasarımını yaparken, diğer yandan Henley-on-Thames'teki üretim merkezinde kanopi bırakma parçalarını üretti.
Uçağın ilk uçuşunun bu yıl ileri bir tarihte gerçekleştirilmesi planlanıyor. Önümüzdeki yılın başında da tam elektrikli uçuş rekorunun kırılması hedefleniyor. Proje finansmanının yarısı, hükümete bağlı Ticaret, Enerji ve Sanayi Stratejisi Departmanı (Department for Business, Energy & Industrial Strategy) ve Innovate UK Konseyi ile ortaklaşa olarak Havacılık Teknolojisi Enstitüsü (Aerospace Technology Institute- ATI) tarafından sağlanıyor.
Havacılık Teknolojisi Enstitüsü İleri Sistemler & Tahrik Sistemleri Başkanı Mark Scully ise şunları söyledi: "Böyle bir dönüm noktasına ulaşabilmek çok büyük bir öneme sahip. ACCEL ekibi, iddialı bir uçuş testi programı çerçevesinde elektrikli bir tahrik sisteminin elde edilebilmesi için gerekli yüksek-performanslı batarya, motor ve tahrik elemanlarının entegrasyonuna öncülük ediyor. Bu teknolojiler ve bunları kullanmak için gerekli sistem entegrasyonu, gelecekte sürdürülebilir havacılık için büyük potansiyele sahip ve bundan dolayı ATI, bu projeyi desteklemekten gurur duyuyor."
ACCEL projesi Rolls-Royce'un, 2050 için belirlenen net sıfır karbon emisyonu yolculuğunda bir ilkler dizisi… Proje, tüm programın karbonsuz olması için karbon dengeleme yönteminin kullanıldığı ilk Rolls-Royce projesi… Rolls-Royce ayrıca, ACCEL projesi ile gençleri STEM (Bilim, Teknoloji, Mühendislik ve Matematik) alanlarında kariyer yapmaya yönlendirmeyi de hedefliyor. Proje kapsamında, ilkokul çağındaki çocuklara yönelik indirilebilir materyaller de geliştirildi. Birleşik Krallık müfredatı ile bağlantılı olan bu materyallerin tamamı Rolls-Royce internet sitesinden indirilebiliyor.
BEYAZ HABER AJANSI (BHA)